Contactgegevens
Parmentier Sofie
Heggestraat 14
3061 Leefdaal
GSM: 0471/94.34.43
E-mail: sofie.parmentier@psycholoog.be
Website: www.psycholoog.be/sofie-parmentier
---
Werkdomein
Therapievormen: klinisch psycholoog, gesprekstherapie, psychologische zorg, begeleiding bij psychologische problemen.
Zowel in Nederlands als Engels.
---
Thema's
Ondersteuning bij burn-out, depressie, verwerking kinder- en jeugdtijd, omgaan met ziekte, zingeving en zingevingsvragen, zelfzorg, zelfmoordgedachte, relatiebreuk verwerken, verlies, verlatingsangst, verdriet, traumaverwerking, rouwverwerking, levensvragen, existentiële thema's, persoonlijke ontwikkeling, laag zelfbeeld, sociale angst, innerlijke conflicten, identiteitsproblemen, hechtingsproblemen, emotionele problemen, grenzen stellen, conflicten, etc.
---
Doelgroep
Jongvolwassenen (18+),
Volwassenen en ouderen
---
Er zijn momenten in het leven waarop we bepaalde beproevingen tegenkomen, we veel stress ervaren, veel piekeren en zorgen hebben, angstig zijn, het gevoel hebben vast te lopen, paniekaanvallen of depressieve gevoelens ervaren, bepaalde gedragingen stellen (zoals woede-uitbarstingen), burn-outklachten of relatieproblemen hebben, en we ons niet meer goed of ontspannen voelen. Op die momenten kunnen vertrouwelijke gesprekken op een veilige en rustige plek helpen om zaken op een rijtje te zetten, om emoties te leren reguleren, om te leren omgaan met bepaalde gedachten en gewaarwordingen, om gebeurtenissen uit het verleden te verwerken, etc. en zo te zoeken naar een stabielere gemoedstoestand.  Ik luister graag naar jullie hulpvragen en wat jullie nodig hebben om gelukkiger in het leven te staan, om samen een gezond mentaal evenwicht te proberen vinden.
Voor een afspraak mag je me opbellen of een mailtje sturen met jouw telefoonnummer en mailadres. Een korte schets van waar je moeilijkheden mee ondervindt of hoe de hulpvraag luidt mag je ook toevoegen.
---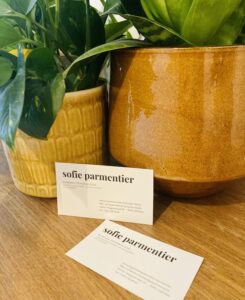 ---
Hey, I'm Sofie and as a clinical psychologist I help young adults (18+), adults and older people who experience psychological challenges, through psychotherapy. I'm fascinated by the human psyche, how people think, feel, and behave. And I like to listen to people's stories.
Everyday I see that in today's society, people often experience stress, worry a lot, feel anxious or stuck, experience depressive feelings, or show other symptoms that make them feel strained or unwell. Through confidential conversations in a safe and quiet environment, I try to help them sort things out, regulate their emotions, deal with certain thoughts and sensations, process past events, etc. in order to achieve a healthier and balanced state of mind.
You can come to me for support with all kinds of themes, such as burnout, depression, illness, the search for meaningfulness, processing childhood and adolescent trauma, a break-up, low self-esteem, social anxiety, inner conflicts, identity problems, attachment problems, emotional problems, setting boundaries and handling conflicts.
I like to take the time to create a comfortable atmosphere, to listen carefully to your help request and what you need to feel happier in life. This way we can search for a healthy mental balance for you. Because I have a degree in English Literature as well, our therapy sessions can also be held in fluent English.
For an appointment you can call me or send an email.